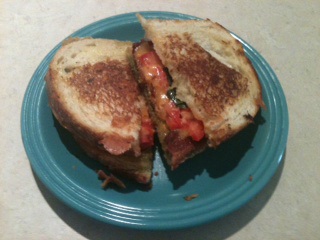 This childhood favorite sandwich is enhanced for grown-up tastebuds with Wisconsin sharp cheddar, tomato, pesto and bacon.
Prep Time: 10 Minutes
Cook Time: 5-10 minutes
Total Time: 15-20 Minutes
Serves: 2
Ingredients
4 slices of applewood smoked bacon
4 slices of sourdough bread
2 tablespoons butter
2 tablespoons basil pesto
1 cup grated cheddar cheese
4 slices of tomato
2-6 basil leaves (optional)
Directions
Heat skillet to medium-high heat and cook bacon, set aside.
Butter one side of each sourdough slice and make sure your other ingredients are ready to go (cheese grated, tomatoes slice, bacon cooked) and within reach of the stove.
Heat another skillet (or use the first one after you drained the grease and cleaned it out) to medium high.
Put two slices of sourdough butter side down in the skillet.
Put a big tablespoon of pesto on top of each slice of bread and use the back of the spoon to spread it around.
Build your sandwiches: Arrange bacon on top of pesto (2 slices per sandwich), sprinkle 1/2 cup of the cheese on each sandwich, top with tomato slices and basil, then the other pieces of sourdough butter side up.
Cook until golden brown on each. Flipping can be kind of tricky, so be careful!
Slice each sandwich in half and serve with your favorite tomato soup!