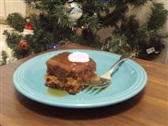 This beer gingerbread recipe will help you create a moist, delicious, and sweet gingerbread cake. Adapted by Amanda from the cookbook Drink Your Beer and Eat It Too.
Prep Time: 10 Minutes
Cook Time: 35 Minutes
Total Time: 45 Minutes
Serves: 12-16
Ingredients
1 cup beer
1 cup margarine or butter, softened
1 cup brown sugar
1 cup molasses
3 eggs beaten
1 teaspoon baking powder
1 teaspoon baking soda
1/2 teaspoon salt
1 1/2 teaspoons ginger
1 1/2 teaspoons cinnamon
Directions
Preheat the oven to 350 degrees.
Bring beer to a boil.
In a large mixing bowl, pour hot beer over the margarine or butter.
Add sugar, molasses, and eggs.
Sift together flour, salt, baking powder, baking soda, and spices.
Add the dry ingredients (flour mixture) to the wet ingredients (beer mixture) and stir in small batches until smooth
Pour batter into a greased 9x13 inch baking pan.
Bake at 350 for approximately 35 minutes until toothpick inserted in the center comes out clean.