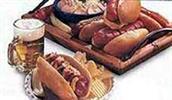 Here's an easy marinade that makes bratwursts taste extra delicious.
Prep Time: 8-24 Hours
Cook Time: 5-8 Minutes
Total Time: 8-24 Hours
Serves: 8
Ingredients
8 Bavaria Smoked Beer Bratwurst
1 cup Wisconsin beer
1/4 cup Dijon mustard
3 Tbsp Molasses
2 tsp Worcestershire sauce
1/2 tsp Nutmeg
1/4 tsp Cloves
Directions
Prick bratwurst all over.
Combine remaining ingredients in large, sealable, plastic bag.
Add brats to bag; seal, and place in bowl in the refrigerator.
Marinate brats in refrigerator for 8 - 24 hours, turning bag occasionally.
Drain and grill.
Tuck into brat buns and enjoy with Wisconsin beer.