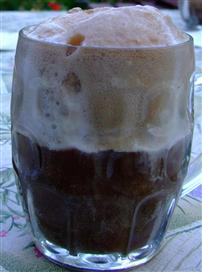 Blumers Old Fashioned Black Cow is a Root Beer Float using Blumers Root Beer and Babcock Ice cream.
Prep Time: 3 Minutes
Cook Time:
Total Time: 3 Minutes
Serves: 0
Ingredients
1 - 12 oz. bottle of Blumers Old Fashioned Premium Root Beer
3 golf ball dips of vanilla custard or premium vanilla ice cream.
Directions
Put the 3 dips of custard or ice cream in a 16 oz or larger, clear glass tumbler
Gently pour Blumer's Old Fashioned Root Beer over the custard or ice cream
Serve with a long (ice cream) spoon and a straw or two
Try replacing Blumer's Root Beer with any of the following sodas to create...
This Recipes Uses