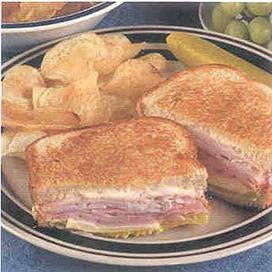 A hearty grilled sandwich that combines the best of Wisconsin artisanal cheese with high-quality meats.
Prep Time: 5 Minutes
Cook Time: 5 minutes
Total Time: 10Minutes
Serves: 2-4
Ingredients
1/2 cup mayonnaise
2 1/2 Tbsp Italian dressing
2 Tbsp Dijon mustard
4 slices sourdough bread
1/4 lb Nueske's smoked turkey breast, thinly sliced
1/4 lb Nueske's smoked ham, thinly sliced
1/4 Swiss cheese, thinly sliced
6 slices dill pickle stackers
1/4 cup olive oil
Directions
In small bowl mix mayonnaise, Italian dressing and mustard. Spread on one side of each slice of bread. Layer turkey breast, ham, cheese, and pickle on spread side of bread.
Close sandwiches and brush both sides with olive oil. Heat in pan over medium heat, turning once to lightly brown each side and melt the cheese.
Remove from heat, cut sandwiches in half and serve.