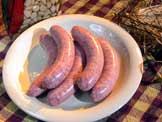 Bratwurst, cheese and bread all cooked together in a delicious new way. Can be made ahead of time; great to serve at a party!
Prep Time: 10 Minutes
Cook Time :60 Minutes
Total Time: 24 Hours
Serves: 4
Ingredients
10 slices white bread, cubed, crust off
1 lb cooked bratwurst, drained
8 oz. cheddar cheese, shredded
6 eggs, beaten
1 cup milk
1 cup light cream (half and half)
1 tsp salt
1/2 tsp pepper
1 tsp Worcestershire sauce
1/2 cup fresh or canned mushrooms
Directions
Grease a 9 X 13-inch casserole.
Arrange in layers: bread, bratwurst, cheese, and mushrooms.
Combine rest of ingredients and pour over top.
Refrigerate overnight.
Bake at 350 degrees for one hour, covered. Serve.