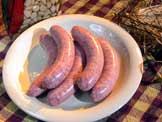 Delicious new way to cook Wisconsin bratwursts that features the sweetness of nutritous red cabbage
Prep Time: 15 Minutes
Cook Time: 45 Minutes
Total Time: 1 Hour
Serves: 4
Ingredients
2 lbs bratwursts
olive oil
8 - 10 cups red cabbage, shredded
2 cups tart apples, peeled and chopped
1 cup red onion, chopped
1 cup beer or dry red wine
1/2 cup cider vinegar
1/2 tsp salt
1 Tbsp honey
Coarsley ground pepper to taste
Directions
Do not prick or cut brats. Place them in a pot and cover with cold water.
Bring to slow simmer and cook very gently for 10 minutes.
Drain well and place in large, lightly oiled skillet over low heat. Cook slowly, turning often, until browned on both sides, 15-20 minutes.
Meanwhile, place cabbage, apples, red onion, and beer or red wine in large, nonreactive saucepan. Bring to simmer and cook over medium heat until vegetables become slightly tender, about 10 minutes.
Add remaining ingredients and continue to cook, stirring often, until tender, 10-15 minutes. As it cookes, add more liquid (beer, red wine, or water) if necessary to keep vegetables from sticking.
To serve, mound the cabbage on a large platter. Cut brats into large pieces and arrange on cabbage. Dig in!