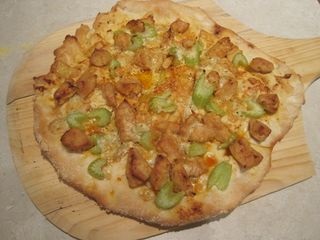 Buffalo Chicken Pizza makes a perfect sports watching meal since it combines two game day favorites- buffalo chicken wings and pizza. Inspired by a Rachael Ray recipe.
Prep Time: 15 Minutes
Cook Time: 15 minutes
Total Time: 30 Minutes
Serves: 2-3
Ingredients
1 cup leftover chicken cut into bite sized pieces
1/2 cup of mild buffalo sauce
3 tablespoons butter- melted
1 10-inch pizza crust
1/4 cup blue cheese crumbles
1 stalk of celery cut into bite sized pieces
Directions
Preheat oven to 450.
Stir the melted butter, hot sauce, and chicken together.
Put the pizza crust on a cookie sheet, and top with chicken mixture, celery, and blue cheese crumbles.
Bake for about 15 minutes at 450, or until cheese is melted and crust is lightly browned.