Posted by Brian on Sep 26th 2017
Monday, October 16th is Boss's Day and it's the perfect time to appreciate (and impress) your boss. There are plenty of bad bosses in the world, so if you're lucky enough to have a good one, you should make sure to appreciate them. Consider bringing in a gift for your boss this year or, better yet, bring in something that everyone in the office can share. It's sure to earn you some brownie points from your superiors, as well!
Below are a few great gift options to bring in for your boss and everyone in the office.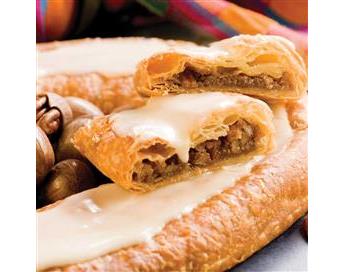 Danish Kringles are perfect for dessert, breakfast or a snack to share with others. Kringle flavors include Pecan, Raspberry, Cherry, Apple, Blueberry, Almond, Apricot, Cinnamon Roll, Chocolate Pecan and Maple Walnut. Danish kringle is an exquisite coffee-cake made of many feather light layers of Danish pastry. Kringles are filled with a variety of homemade fillings including premium fruits, choice nuts, cinnamon and maple. The pastry itself made by O & H Danish Bakery requires a minimum of three days preparation. Layer upon layer of golden Wisconsin creamery butter is folded and rolled into the pastry dough. The result is a deliciously rich, yet feather-light and flaky pastry. Each Danish Kringle serves 8-12 people.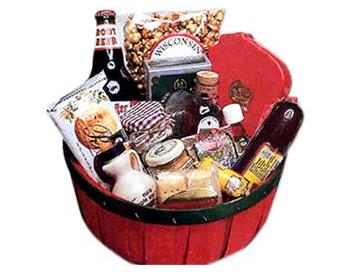 Taste of Wisconsin Gift Basket
The Taste of Wisconsin Gift Basket is loaded with great food made in Wisconsin. Each basket will be generously filled with delicious Wisconsin cheese, sausage, soda, popcorn, cookies, and more. There are so many tasty Wisconsin foods that there is not enough room in this gift basket for everything! A great gift idea for any occasion.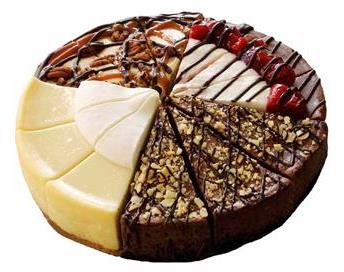 Suzy's Four Flavor Cheesecake Sampler offers you a delicious dilemma–choosing which of these Wisconsin Cheesecakes is your favorite! With Suzy's Four-Flavor Cheesecake Sampler, you can enjoy three perfect slices each of New York Style Cheesecake, Chocolate Amaretto Cheesecake, Black Forest Cherry Cheesecake and Chocolate Caramel Pecan Cheesecake. Order one 8 inch Cheesecake Sampler and enjoy four fantastic cheesecake flavors. You'll be the most popular person in the office with this gift!