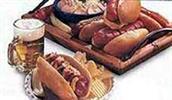 Delicious recipe for the classic grilled bratwursts, simmered with beer and onions and served on hard rolls with mustard. YUM!
Prep Time: 20 Minutes
Cook Time: 20 minutes
Total Time: 40 Minutes
Serves:6
Ingredients
8 bratwursts
2 - 3 bottles Wisconsin beer (12 oz each)
4 Tbsp Wisconsin butter (not margarine)
1 medium onion, thinly sliced
hard rolls (semmel buns)
Toppings: Pickles, Stone-ground Mustard, Ketchup, Onions - diced
Directions
Grill brats slowly over low to
medium-hot coals, turning them often with tongs, until firm to the touch and browned all over, - about 20 minutes.
Meanwhile, bring the beer, butter and sliced onions to a slow simmer in a pot.
Add the grilled brats (you can add a little water if necessary to cover the sausages) and turn heat down to lowest setting.
Keep the brats in the mixture until ready to serve. (Many aficionados reverse this process - they simmer first, grill briefly and serve immediately.)
To serve, use two brats per hard roll and add some of each topping.
This Recipes Uses