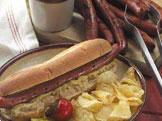 Directions
Storage: Refrigerate immediately. Unopened package will keep for 2 weeks in your refrigerator or up to 3 months in freezer with no loss of flavor. Once opened use within 1 week.
Serving: Smoked sausage links and wieners are fully cooked, ready to warm and serve.
Grill or Broil: Place links on grill 7 – 9 inches from heat source. Use MEDIUM heat for 8 – 10 min, turning frequently with tongs.
Skillet: Put ¼ cup water, 1 Tbsp butter, and links in skillet. Cover and simmer over Medium heat 8 – 10 minutes, turning frequently with tongs.