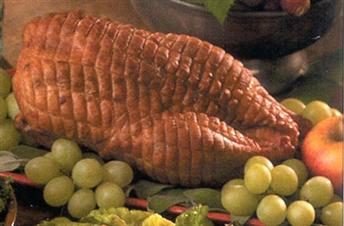 Directions
Storage: Refrigerate immediately. Unopened package will keep for 2 weeks in refrigerator, or up to 3 months in freezer with no loss of flavor. Once opened enjoy within 1 week.
Serving: The smoked poultry is cured, smoked, fully cooked and ready to serve, hot or cold. Remove any netting before heating or slicing. Meat will appear pink (due to smoking). To maintain maximum moistness, we recommend not heating.
Oven Warming: If you prefer to gently warm, pre-heat oven to 325 degrees Fahrenheit. Place poultry in roasting pan, add 1/4 cup water, cover tightly with foil, and place on oven rack. Warm approximately 15 minutes per pound or to internal temperature of 120 degrees Fahrenheit. Do not overheat.