Posted by Brian on Mar 20th 2018
Easter is just around the corner, and it's the perfect time to gear up with some gourmet gifts to host a great gathering. Over at Wisconsinmade we have a large selection of Easter gifts to choose from! Check out a few options below: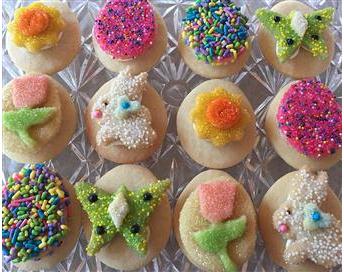 The Sugar Crisp Easter Egg Sandwich Cookies are the perfect Easter gift. Enjoy 24 sandwich cookies made with a butter cream frosting sandwiched between two outstanding sugar crisp cookies. On the bottom is a 2 inch round or square cookie, and on the top an Easter egg shaped cookie colorfully decorated. The attractive cookie box has a clear lid to show the cookies inside. The Sugar Crisp Easter Egg Sandwich Cookies by Cookies from Scratch make a great gift for Easter, a thank you or other special occasion.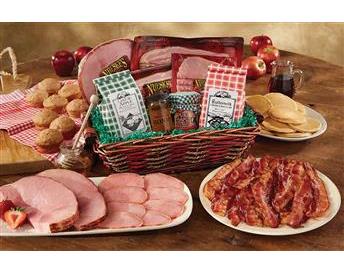 The Nueske Family Breakfast Special Gift Assortment is perfect for a family breakfast. The delicious breakfast assortment includes a tasty selection of Applewood smoked meats, buttermilk pancake mix, oat & apple muffin mix, premium honey, and pure Wisconsin maple syrup, all packed into a decorative reusable gift basket. The smoked meats include a tender, succulent center-cut ham steak accented with delicate Applewood smoke, two one-lb. packages of nationally acclaimed, award winning Nueske medium sliced Applewood smoked bacon, and lean Canadian bacon, thick-sliced and smoked the famous Nueske way. This bountiful assortment makes a unique gift idea for any special family occasion!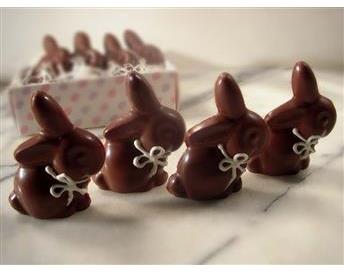 As delectable as they are adorable, Wisconsin Dairyland Fudge's Chocolate Bunnies with a Bow are cute critters made of premium chocolate adorned with a ribbon of chocolate around their necks. There are 4 bunnies in each decorated gift box. Bunnies are available in your choice of Milk, Dark, or White Chocolate. Milk and Dark Chocolate Bunnies have a white chocolate ribbon. White Chocolate Bunnies have a milk chocolate ribbon. Melt in your mouth goodness!