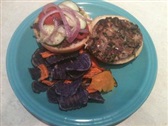 Greek style foods bring cucumber, red onion, feta cheese, and kalamata olives together into a delicious flavor combination. Adapted from a Rachael Ray recipe.
Prep Time: 10 Minutes
Cook Time: 15 minutes
Total Time: 25 Minutes
Serves: 4
Ingredients
Burgers:
2 tablespoons olive oil
2 garlic cloves chopped
1 red onion, half diced and half sliced for topping
1 10oz box of frozen spinach, thawed
2 teaspoons dried oregano
1 tablespoon Greek seasoning
1/4 cup feta cheese crumbles
1 package ground turkey breast (you can also use ground chicken)
4 crusty rolls, split
Toppings:
1/4 cup pitted kalamata olives
2 roasted red peppers drained
1/4 cup flat leaf parsley
2 sliced roma tomato
1 sliced cucumber
Directions
Heat a large non-stick skillet over medium heat and add 1 tablespoon of olive oil. Cook the diced (not sliced) onions and garlic for 5 minutes. Place the onions and garlic in a large bowl to cool.
Add the other tablespoon of olive oil and cooked the sliced onions for 5 minutes. Reserve for use as a topping later.
Put the defrosted spinach in a clean kitchen towel and wring out the excess water over the sink. Add the spinach, oregano, grill seasoning, feta crumbles, and meat to the bowl with the onions. Use your hands to mix everything together.
Form the meat into 4 1-inch thick patties. Heat the skillet to medium high and grill the burgers for 6 minutes on each side. You can also do this on the grill if you prefer.
In a bowl, season the sliced cucumbers and tomatoes with salt and pepper.
Add olives, roasted red pepper and parsley to the bowl of your food processor. Pulse a few times until you have a thick paste.
Spread the olive mixture on the top bun. Put the burger on the bottom bun and top with tomatoes, cucumbers, and grilled onions. Serve with fancy chips or fries.
This Recipes Uses