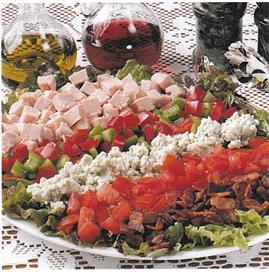 Nutritous and delicious cobb salad created with gourmet, smoked chicken or turkey, artisanal blue cheese, and applewood-smoked bacon makes a festive meal for family and friends.
Prep Time: 25 Minutes
Cook Time: 0 minutes
Total Time: 25 Minutes
Serves: 4-6
Ingredients
1 large head red leaf lettuce, torn in bite-size pieces
1 pound Nueske smoked bacon, diced, then fried until crisp and drained on paper towels
2 Nueske smoked chicken breasts, skin removed, diced into 1/4-inch cubes (1-1 1/2 cups)
1 large tomato, diced into 1/4-inch cubes
1 red bell pepper, diced into 1/4-inch cubes
1 green bell pepper, diced into 1/4-inch cubes
1/4 pound blue cheese, crumbled (about 1 cup)
Dressing: 3 Tablespoons balsamic or red wine vinegar
1/8 teaspoon salt
Pepper to taste
2/3 cup extra virgin olive oil
1 teaspoon sugar
Optional: 1 1/2 cups diced Nueske smoked turkey in place of chicken
Directions
Whisk dressing ingredients together in small bowl. In large bowl, toss lettuce with dressing mixture. Divide lettuce onto 4 or 6 plates.
Arrange in strips across lettuce (in this order): chicken cubes, green and red peppers, cheese, tomatoes, and bacon pieces. Serve at room temperature.
This Recipes Uses
Buttermilk Blue Cheese
Nueske Medium-Thick Sliced Applewood Smoked Bacon