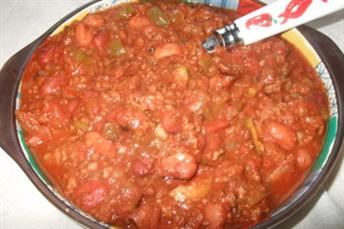 Want HEAT?! This spicy chili's got it! With hot salsa, hot chile peppers, spicy hot olives, spicy chili beans and chili powder simmered with ground beef, you'll run for the beer! - And beer's in here too!
Prep Time: 20 Minutes
Cook Time:2 Hours
Total Time: 2 Hours 20 Minutes
Serves: 4-6
Ingredients
2 lbs ground beef
1 medium onion, chopped
1 bell pepper, chopped
1 Habanero pepper, diced
2 -14 oz cans of hot chili beans (28 oz total)
1 large can of diced tomatoes
1/2 can of beer
1/2 cup red wine
1 small jar of green chilies, diced
10 - 12 Stump's Hot Olives, diced
1 Tbs chili powder
2 tsp cumin
Salt and pepper to taste
Directions
Saute hamburger in 1/4 cup Stump's Hot Olive juice.
Add remaining ingredients and bring to a boil.
Reduce heat to low, and simmer for 2 hours.
Serve with warm tortillas, corn bread, or over pasta.