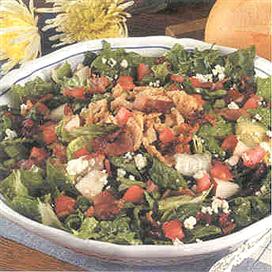 Deliciously satisfying tossed green salad full of flavor and crunch.
Prep Time: 15 Minutes
Cook Time: 10 minutes
Total Time: 25 Minutes
Serves: 4-6
Ingredients
10 slices Nueske's smoked bacon, diced into 1/2-inch squares
8-10 leaves Romaine lettuce, chopped
2 Tbsp onion, finely diced
1 cup tomato, chopped
3/4 cup celery, chopped
3 Tbsp dried craisins
1/2 cup Asian or Bosc pear, diced
1 avocado, diced
3 Tbsp blue cheese, crumbled
1/2 cup dried French fried onions for garnish
Dressing
1/2 cup canola oil
4 Tbsp red wine vinegar
2 Tbsp balsamic vinegar
6 Tbsp sugar
1 tsp salt
1/4 tsp pepper
Directions
Fry bacon in skillet until medium crisp. Remove and cool slightly.
Mix the dressing ingredients together and set aside.
Mix together all remaining ingredients except the French fried onions.
Right before serving, mix the dressing into the salad.
Top with the French fried onions.
This Recipes Uses
Buttermilk Blue Cheese
Nueske Medium-Thick Sliced Applewood Smoked Bacon