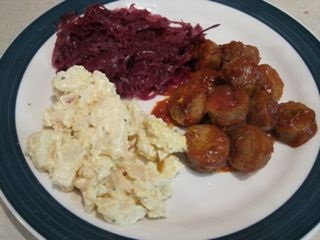 An easy and delicious meal that will become a family favorite.
Prep Time: 5 Minutes
Cook Time: 15 Minutes
Serves: 2
Ingredients
3 Uncooked Bratwursts
1 can beer, or enough water to cover the brats
3/4 cup ketchup
1-2 Tablespoons curry powder, depending on how spicy you want it
Directions
Put uncooked bratwurst in a small frying pan, cover with beer (or water). Bring to a boil then reduce to a simmer and let brats cook for 7 minutes
Remove bratwurst and dump out the liquid. Put the brats back in the frying pan, turn the heat to medium high and cook until browned, turning occasionally. If you aren't still in winter hibernation mode, you can do this on the grill.
Cut the brats into bite sized pieces, return to pan.
Add 3/4 cup ketchup and curry powder to pan along with brats, stir to coat.
Serve with your favorite German side dishes- I used red cabbage and potato salad.
This Recipes Uses