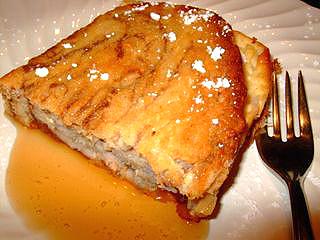 Bakery-fresh cinnamon swirl bread and bananas are the secret ingredients of this delicious, make-ahead, baked French toast.
Prep Time: 15 Minutes
Cook Time: 55 minutes
Total Time: 70 Minutes
Serves: 3-4
Ingredients
8 slices cinnamon swirl bread
2 medium bananas, cut in 1/4-inch slices
1 cup milk
4 ounces cream cheese, softened
3 eggs
1/3 cup sugar
3 Tablespoons flour
2 teaspoons vanilla
Optional: thin-sliced apples or sweetened dried cranberries can be substituted for bananas
Directions
Place 4 slices of cinnamon swirl bread in a single layer in a buttered, 9-inch square baking dish.
Top with sliced bananas and 4 slices of cinnamon swirl bread.
Blend together milk, cream cheese, eggs, sugar, flour and vanilla in a blender until smooth.
Pour over the cinnamon swirl stack. Let stand for 5 minutes or refrigerate overnight.
When ready to bake, pre-heat oven to 350 degrees.
Bake for 40-45 minutes until the toast mixture is set and toasted. If previously refrigerated, then bake for 50-55 minutes.
When done, remove from oven and let sit for 10 minutes.
Cut French toast into diagonal halves and remove with a spatula. Dust with powdered sugar or top with pure maple syrup. Enjoy!