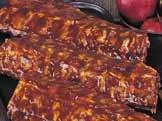 Directions
Storage: Refrigerate immediately. Unopened package will keep for 2 weeks in your refrigerator or up to 2 months. Once opened, use within 1 week. Serving: Baby back ribs are cured, smoked, fully cooked, and ready to warm.
Grill: Place ribs on grill 5 – 7 inches from heat source. Heat 5 - 8 minutes on each side, basting occasionally with barbecue sauce.
Oven: Preheat oven to 325 degree F. Place ribs in shallow baking pan, add ¼ cup water, and heat uncovered for 15 minutes. Add sauce remaining in bag, cover with foil and heat for additional 15 minutes.
Crock Pot: Place ribs in covered crock pot. Add ¼ cup water, heat on LOW for 2 ½ hours for optimum tenderness.
Microwave: Place ribs in microwave-safe dish, cover and heat on high. After 4 min, rotate dish and heat additional 4 minutes (or follow microwave manufacturer's instructions).