Posted by Brian on Jan 9th 2018
I would describe myself as a true lover of dessert. For better or worse (usuallybetter), it is one of my greatest passions. I can – and do – eat more dessert than anyone else I know. It's a point of pride, and I don't discriminate – I will try and enjoy almost any dessert. So when I say that kringles might just be my new favorite dessert, it holds a bit more weight than it would coming from your average sweet tooth.
Kringles are incredibly labor-intensive Danish pastries (it takes 3 days to make a single pastry!) that became a staple in Racine, WI when Danish immigrants made it their home. And as of 2013, Kringles are the official state pastry of Wisconsin. Over at Wisconsinmade.com, we are lucky enough to have products from two award-winning kringle makers: Racine Danish Kringles and O&H Danish Bakery. You can read a bit about how they make them here, but let me just tell you: it's all about the fantastic, creamy, buttery dough they use.
So take it from a true expert of the world of desserts – you need to try one of these delicious pastries. You'll thank me later. Check out a few options below: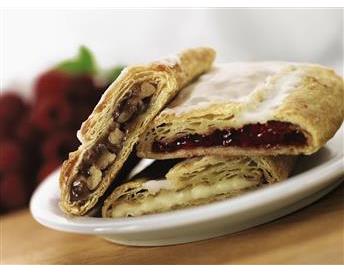 The Racine Danish Kringles 3-Pack includes three delicious kringles in your choice of flavors. This perfect gift includes three 22 oz. kringles delivered right to your door in one box. Choose your favorite kringles from these five popular flavors – Almond, Apple-Cinnamon, Cheesecake, Pecan and Raspberry. This gift box makes a great choice for any special occasion.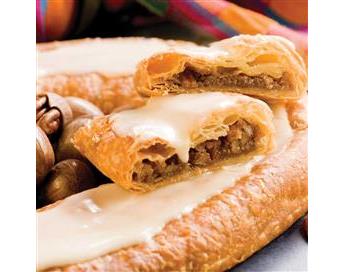 O & H Danish Kringles are perfect for dessert, breakfast or a snack. Kringle flavors include Pecan, Raspberry, Cherry, Apple, Blueberry, Almond, Apricot, Cinnamon Roll, Chocolate Pecan and Maple Walnut. Danish kringle is an exquisite coffee-cake made of many feather light layers of Danish pastry. Kringles are filled with a variety of homemade fillings including premium fruits, choice nuts, cinnamon and maple. Layer upon layer of golden Wisconsin creamery butter is folded and rolled into the pastry dough. The result is a deliciously rich, yet feather-light and flaky pastry.