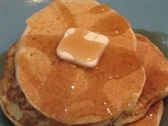 Ricotta cheese makes pancakes super fluffly and ready for Wisconsin maple syrup!
Prep Time: 10 Minutes
Cook Time: 20 Minutes
Total Time: 30 Minutes
Serves: 2-3
Ingredients
2 cups batter- from scratch if you are feeling ambitious or your favorite pancake mix
1/2 cup ricotta cheese
Zest of 1 orange
Cooking spray for griddle
Your favorite syrup
Optional: Butter
Directions
Spray griddle with cooking spray and heat griddle to medium high heat. The griddle is hot enough when drops of water sizzle and disappear.
Make your pancake batter according to package directions, and take care not to mix it too much.
Gently fold in ricotta cheese and orange zest, again, be careful not to over mix, there should be some lumps
Put about 1/3 a cup of mix onto hot griddle for each pancake. They are ready to flip when bubbles appear on the top.
Top with Wisconsin maple syrup and butter and enjoy!
This Recipes Uses