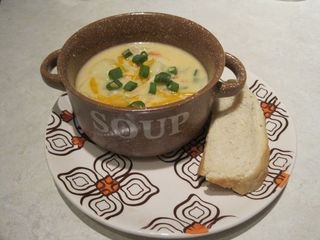 Wisconsin's official soup with a twist. Adapted by Amanda from a Wisconsin Milk Marketing Board recipe.
Prep Time: 15 Minutes
Cook Time: 40 Minutes
Total Time: 55 Minutes
Serves: 5
Ingredients
Cooking Spray
3 cups diced carrots
1 cup slice celery
3/4 cup chopped green onions
4 cups peeled, diced round red potatoes (about 1 1/2 pounds)
1 can low sodium chicken broth
1/3 cup flour
2 cups Milk
1/4 teaspoon salt
1/4 teaspoon white pepper
1/4 teaspoon ground nutmeg
3/4 cup Wisconsin beer
1 1/2 cups shredded Wisconsin Sharp Cheddar cheese
1/2 cup shredded Wisconsin Swiss cheese
Directions
Coat a large pot with cooking spray and place over medium high heat until the pot is hot.
Add carrots, celery, and green onions and cook for 8 minutes stirring occasionally.
Add potatoes and chicken broth and bring to a boil.
Once the soup is boiling, reduce the heat and simmer for 25 minutes or until the vegetables are tender.
Place flour in a bowl. Gradually add milk while whisking with a wire whisk. Add to pot.
Stir in salt, pepper, and nutmeg.
Cook 2 minutes or until thickened.
Add the beer, cook 1 more minute.
Remove from heat, add cheeses, stirring until the cheeses are melted.
This Recipes Uses
Wisconsin Cheddar Cheese Sampler Gift Box
Americas Dairyland Cheese Gift Box