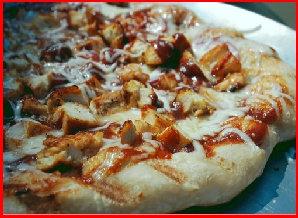 Sweet Lu's Croix Valley Chicken Pizza is easy to make and scrumptious to eat. The secret IS the sauce - Croix Valley Steak Sauce. These Scovie award-winning sauces flavor chicken, pork, vegetables, fish, and yes, steak too. A1, it's okay, you stick with steak, Croix Valley has the other foods covered.
Prep Time: 25 Minutes
Cook Time: 10 - 15 Mintues
Total Time: 45 Minutes
Serves: 2-3
Ingredients
2 Tbs olive oil
1 boneless, skinless, chicken breast
1 medium red onion, thinly sliced1 t Salt
1/2 cup Croix Valley Original Steak Sauce
1 1/2 cups shredded mozzarella cheese
1 12-inch pre-baked pizza crust
Optional: Croix Valley Garlic n Herb and Croix Valley Hot n Spicy can be substituted for the original sauce.
Directions
Heat olive oil in skillet over medium heat.
Cut chicken breast into chunks and sautee with 2 Tbs of Croix Valley Steak Sauce until done (6-8 minutes).
Add remaining steak sauce to pizza crust and cover with mozzarella cheese.
Top cheese with cooked chicken breast and sliced red onion.
Bake in preheated 425 degree oven for 10-15 minutes or until cheese is melted and slightly bubbly. (Cooking times may vary.)