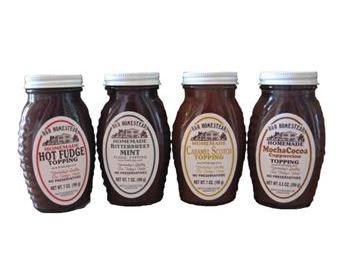 Sweet, creamy goodness in every bite of these 'Perfect' caramel Scotch squares. A new twist on delicious.
Prep Time: 15 Minutes
Cook Time: 35 Minutes
Total Time: 50 Minutes
Serves:12-14
Ingredients
1 stick butter or margarine (1/2 cup), softened
1/2 cup sugar
1 cup packed brown sugar
2 eggs
1 teaspoon vanilla
1 1/2 cups flour
1 jar R&R Caramel Scotch Topping (7 oz.)
Optional: 1 to 1 1/2 cups chopped pecans
Directions
Pre-heat oven to 350 degrees. Grease and flour a 9 x 9-inch baking pan or spray pan with 'Baker Joy' spray.
Cream well the stick of butter or margarine
Add sugar and brown sugar and beat until smooth and creamy
Add eggs and vanilla, blending well
Alternately add the flour and caramel Scotch topping. DO NOT OVERBEAT THE BATTER!
Optional: Fold in the chopped pecans
Pour into greased pan and bake for 30-35 minutes. Do not overbake!
This Recipes Uses