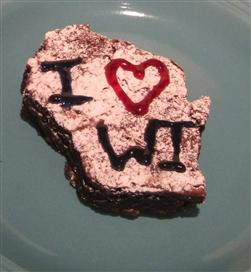 R&R Homestead's gourmet hot fudge topping is baked right into these delicious brownies making them gloriously decadent. A real treat!
Prep Time: 15 Minutes
Cook Time: 35 Minutes
Total Time: 50 Minutes
Serves: 12-14
Ingredients
2 sticks butter or margarine (1 cup), softened
1 3/4 cups sugar
4 eggs
2 teaspoons vanilla
1 jar R & R Homestead Hot Fudge Topping (13.5 oz.)
1 1/2 cups flour
5 Tablespoons cocoa
1/4 teaspoon baking powder
Optional: 2 cups chopped walnuts
Directions
Pre-heat oven to 350 degrees. Grease and flour a 9 x 13-inch pan, or coat pan with 'Baker's Joy' spray.
Beat together butter and sugar
Add eggs and vanilla and blend thoroughly
Stir in: hot fudge topping, flour, cocoa, baking powder and walnuts
Pour into greased pan and bake for 35 minutes. Do not overbake.
Frost with R & R Homestead Mint Fudge Topping right from the jar.
This Recipes Uses